Hello, guys. You know that our Company produces yarn in 5 different types of thickness.
And I'm here to help you to make a right choice.
Let's start with the biggest one because the difference is obvious. SUPER MAX is very thick and heavy. The best way to use it is for heavy weighted blankets, massive decorative pillows and so on.
If you want to know how much SUPER MAX yarn is necessary for different projects, please, follow the article "HOW MUCH YARN SUPER MAX CHUNKY YARN DO I NEED?"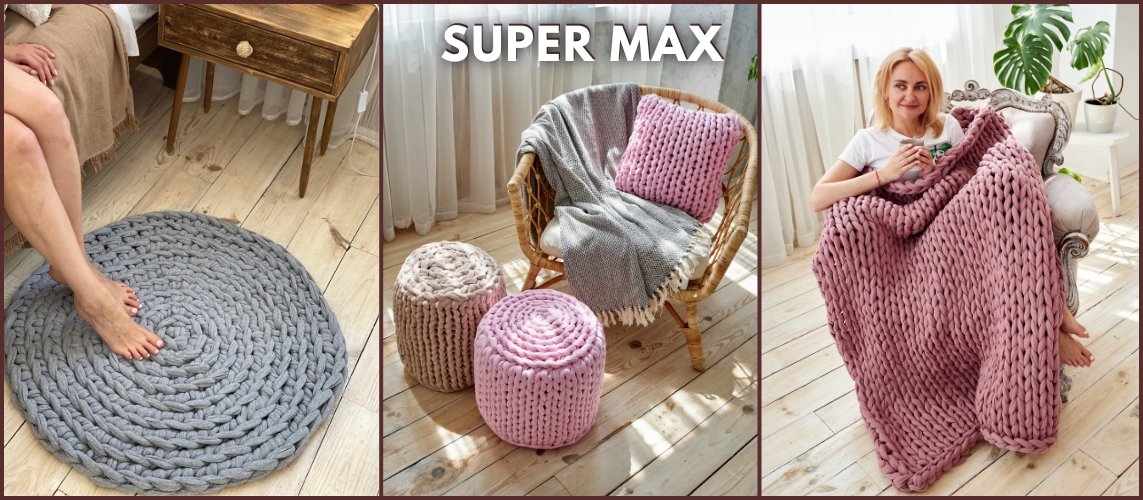 But the biggest question is about MICRO, MINI, MEDIUM and MAXI differences.
We know that each ball contains 100 meters (109 yards). Because of different yarn thickness they have a different weight:
Bobilon MICRO 3-5mm: app. 220g
Bobilon MINI 5-7mm: app. 270g
Bobilon MEDIUM 7-9mm: app. 350g
Bobilon MAXI 9-11mm: app. 500g
I always advise to take MEDIUM size 7-9mm in case it's your first meeting with Bobilon yarn. It suits almost any kind of project. Crochet baskets and bags perfectly hold their shapes. MEDIUM size is thick enough for rugs and carpets. I also tried this yarn for pillowcases, backpacks, napkin holders, poufs. It always meets my expectations. So, if you are a beginner or just start to use Bobilon t-shirt yarn, try MEDIUM size. That's the best choice!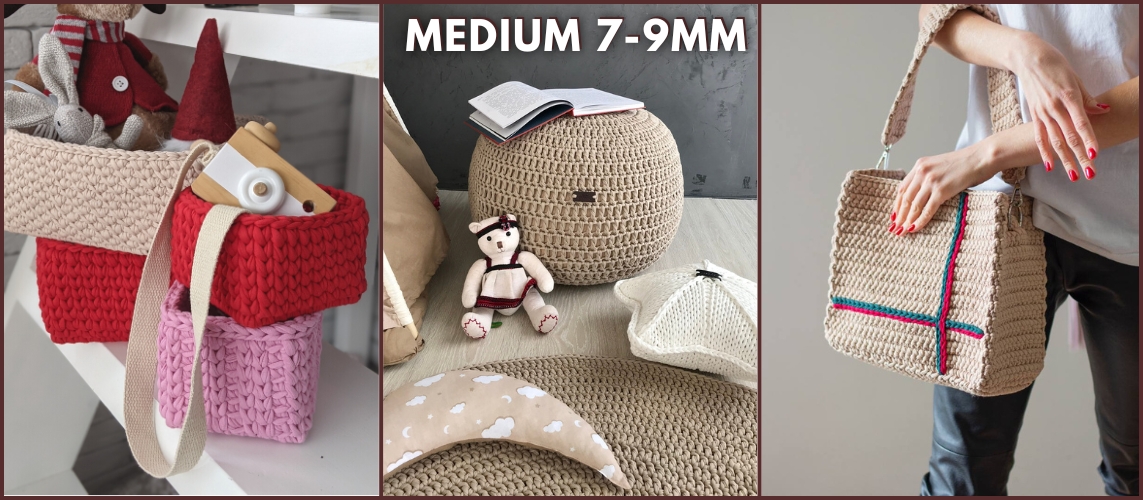 Now let's talk about MINI size 5-7mm.
It's very similar to MEDIUM size but a little smaller.
If your crochet technique is tight than it may work for you as well as 7-9mm.
Or, for example, if you want to crochet some shopper bag with soft sides (see picture below) MINI yarn is a right choice for you.
It also works perfectly for carpets, any kinds of bag, pillows, macrame projects.
But you'll need bigger bobbin quantity in comparison with previous MEDIUM size, so please, take it into account.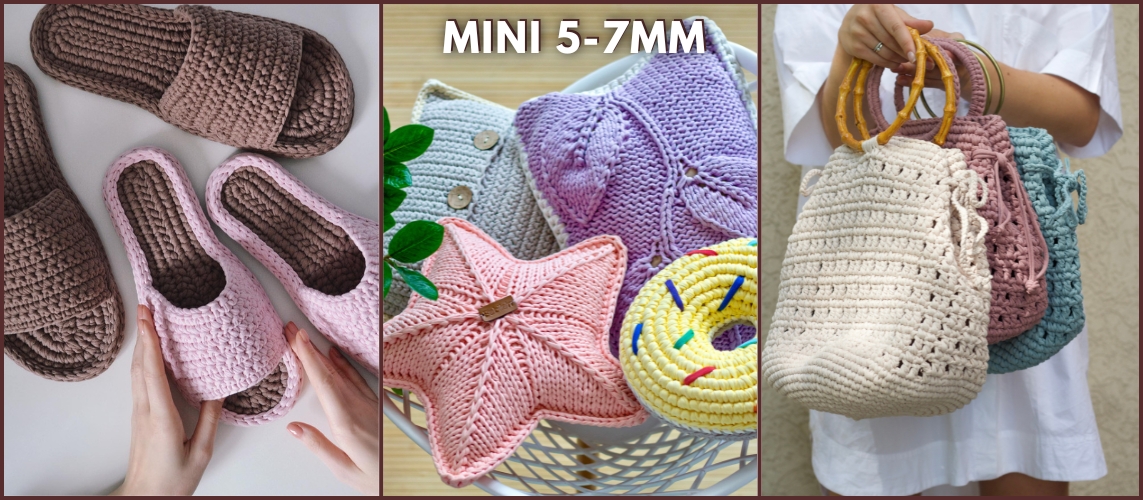 MICRO size 3-5mm is the smallest one and is my personal favorite.
I adore to use it for soft knitted baby blankets. It's a Master Level, when you may regulate the texture by using different knitting needle sizes and more complicated patterns.
It is also perfect for amigurumi toys, different accessories, volume pattern bags, arm-knitted scarves. There are a lot of crocheters who love to use only this size of Bobilon t-shirt yarn.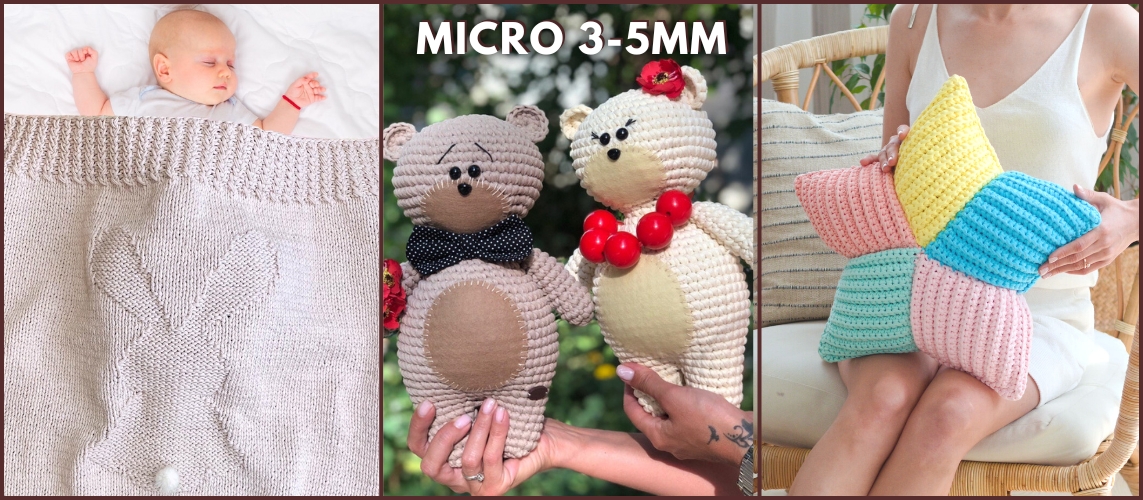 And the final size is MAXI 9-11mm.
It is not so commonly used. It's rather thick for ordinary bags or backpacks.
But you should choose MAXI size in case you want some textured pouf or basket that perfectly holds its shape. And by the way, MAXI Bobilon yarn is ideal for baby moses baskets.
Despite its thickness, this yarn also can be used for macrame. Just take a look at this masterpiece!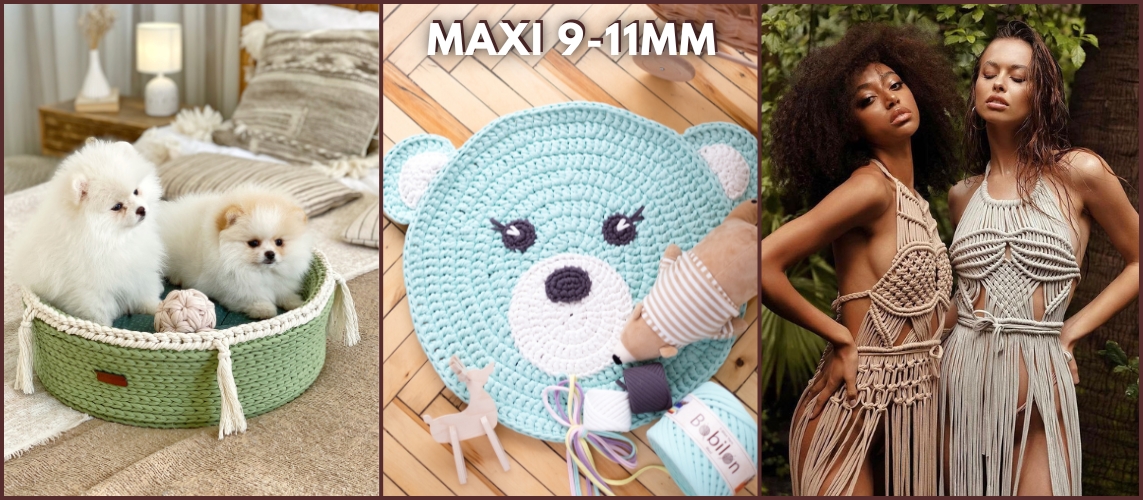 Hope, this post was useful for you!
Please, write your comments bellow!